Like a beautiful poem, a zen garden uses symbolism to represent a coherent landscape. Swirls in sand might illustrate a moving stream. Smooth stones could equate to mountains or turtles. Succulents can be a forest. Moss might be a meadow.
There are fundamental and intentional principles in Zen garden design. Gert J Van Tonder and Michael J. Lyons explore these various principles in their study, Visual Perception in Japanese Rock Garden Design For example, they explain, "arranging rocks like the scales on a fish (also called the folding screen technique), creates the impression of a vast, deep landscape with mountains." They continue, "suggested landscape features, like streams, should never be straight, but curved in a manner suggestive of an endlessly winding structure" (Tonder and Lyons).
Knowing some zen basics can be helpful when designing your own, however as an advocate of self-expression, I think the most important part of designing a zen garden is to make it entirely your own. Because the Zen garden is based on symbolism, each person's encounter with it is a wholly individualized experience.
Tonder and Lyons state, "visual grouping can be interpreted as segmentation, the division, by the visual system, of a scene into possibly meaningful parts, as an early step in the analysis of a visual scene." They imply that each area of a Zen garden carries the possibility of meaning and every brain, upon witnessing a Zen garden, unwittingly begins its own analytical processes. A small Zen garden is observed all at once, unlike an English garden, for example, that calls for wandering. The Zen garden is more like a landscape painting. This is why a small Zen garden is an excellent option for designing an indoor oasis–it can function as a form of decor, a shrine or a compressed landscape.
Ingredients for Your Tiny Indoor Zen Garden
Stones
Bonsai
Sand
Succulents
Moss
Water, Religious Figurines, Candles, Trinkets and whatever else inspires you!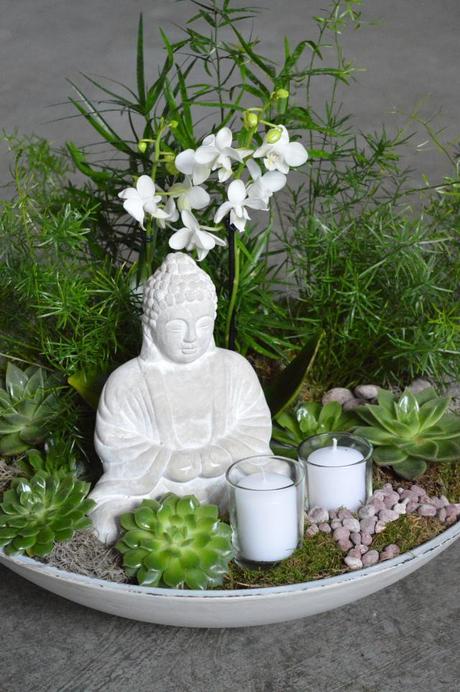 Related